Friday, October 10th, 2008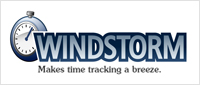 It feels fitting to begin this blog with some history. Minuteglass has its roots all the way back in 2001 with the idea to build a time tracking and collaboration system. Web based tools at the time were primitive compared to today. Back then, there was no such thing as Ajax and Flash was just for animation.
The team at Tornado Design needed a way to track time on customer projects. In 2002 we began designing and building a PHP based application to track time and projects. It was called Windstorm and once the software was launched we used it to track our time.
We found ways to resell all of our hard work to other companies. In 2003 we configured our system for a large group of doctors in Burbank, CA and made a bunch of money selling the service.

Today, we are a group of 3 people who have taken this original vision and created the next generation in time tracking — the all new Minuteglass system. This product, being developed right now by Tom Chapin, Chris Tingom, and Kent Downer of Tornado Design in Phoenix and will allow individuals and companies to track their time over the web, and on their desktop.
We can't wait to launch! Please sign up for our launch announcement email at www.minuteglass.com.